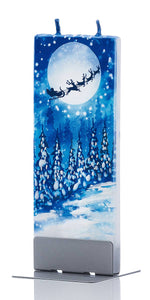 "Santa's Flying Sleigh & Reindeer" Flat Homemade Candle
Regular price $17.95 Sale
Beautiful snowy Santa's sled flying over lighting moon creates a tasteful addition to any holiday gift or postcard. Bring more joy to your holiday with wintern design flat candles.
These flat candles are drip-resistant and hand-painted in Lithuania.  The twin wicks burn evening and are self-extinguishing as they near the steel base, without dripping wax or smoke.  Metal stand is included in candle packaging and doubles as a snuffer.  These candles fit nicely inside a greeting card or gift box, and they are also a wonderful stocking stuffer. 
Unscented and smoke-free.  
Handmade from Lithuanian and German raw materials: Highly refined paraffin wax, steal, and organic cotton (wick). 
Handpainted in Lithuania. 
Dimensions: 2.4" x 0.4"" x 5.9"
Weight: 0.22 lb